Emergency and
Trauma Department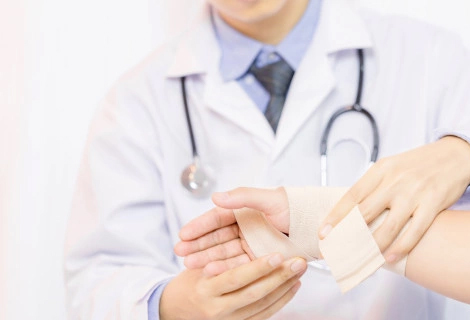 Emergency and Trauma Department
The Emergency and Trauma Care Department is one of the most meticulously set up department in the entire hospital. Understanding the gravity of the situations at which patients are likely to arrive for immediate care, this department is ready to serve 24/7, 365 days, with courage and determination. The Department is equipped with some of the best life support systems bringing in a fine mix of medical excellence and technology.
The hospital adopts a zero compromise approach as it continues to accord the topmost priority to see that patients in the Emergency and Trauma Care Department get the best and immediate attention.
Treatments at our Hospital:
The word 'failure' does not exist in the dictionary of the Department of Emergency and Trauma Care as we do everything what we can to stabilise the patient. We are a confident and competent team of doctors and nurses, ready to deal with the unexpected at any given time. Some of the types of treatments offered at the hospital include:
Critical care emergencies
Cardiac emergencies
Road accidents
Head injuries
Medical emergencies
Obstetric & Gynecological emergencies
Pediatric emergencies
Facilities available at our Hospital:
The Department of Emergency and Trauma Care at KS Hospital is specialised in offering Emergency Care. Since every second counts, we have what it takes to act fast and see of the critical period.
Some of the facilities available round the clock, 365 days include:
Round the clock emergency care for all medical and surgical emergencies (Both adult and pediatric)
24 Hour cover by Specialist doctors – Emergency Physicians, apart from Resident Doctors
Well Equipped & dedicated Trauma Care facility and team
Acute Stroke Team
Mental Health Emergencies
High end ICU Ambulance services for transfer of critically ill patients, including children
24 x 7 In-Hospital supporting team, including radiology & Lab
Emergency Department team: Well Qualified, trained and dedicated emergency Physicians, Nurses to provide the best in class Emergency Care.
Trauma Care Team: Immediate attention by dedicated trauma team ( multi speciality) for all poly trauma cases for early resuscitation